Self care for educators with Awaken Wellbeing
In April I travelled for the first time to Victoria on Vancouver Island, to document a workshop specifically targeted towards self care for educators.
I worked with facilitator Lisa Baylis and asked her a few questions about Awaken Wellbeing, why she was inspired to start offering these workshops, and why self-care is so important for educators.
Lisa Baylis - Awaken Wellbeing for Educators
My name is Lisa Baylis. I am a wellbeing and resiliency mentor as well as a positive educator. I currently work full time as a counsellor in the Greater Victoria School District. I support my district with SEL and mindfulness initiatives in order to create a positive and resilient culture. My current passion in the educator wellbeing retreats I facilitate call through my consulting business AWE (Awaken Wellbeing for Educators).
These day and weekend long retreats give permission to educators to have a purposeful day of heart-centered nourishment and stillness.
The need for self care for educators
My most important job however is being a Mom to my kiddos Benji and Gracie who are mostly wonderful and very human and remind me daily the practice of being present, leading with love and acting with kindness.
In 2014 educators were mandated back to work after a long and stressful strike in our province. I walked back into school feeling undervalued, unsupported and unwell and I noticed my colleagues were the same way.
Making wellbeing a priority
Their unhappiness spread amongst the staff, students and community and I saw less learning happening and more struggles. My son was going to start Kindergarten in 2015 and I needed a culture shift to happen so that he was surrounded by happy, loving and valued educators.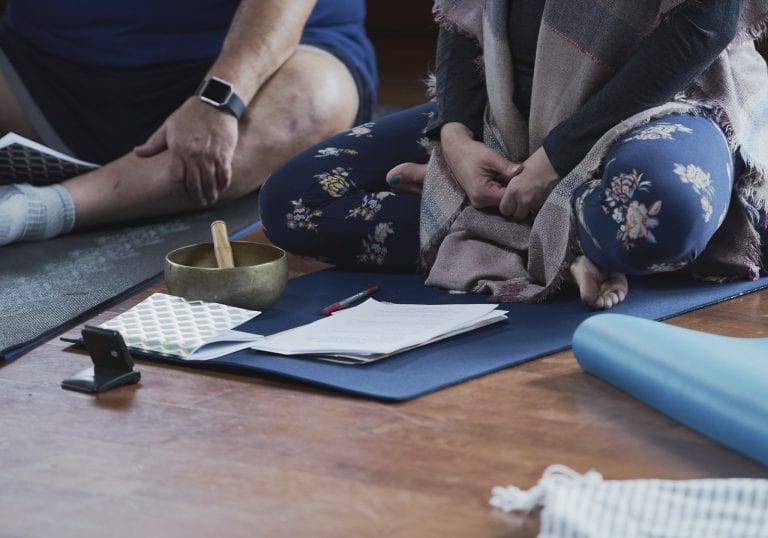 I worked hard to create a grassroots movement around educators that put their wellbeing as a priority when we talk about improving the health of our students.
When teachers are happy, students will learn better. I want to work with educators who believe in heart-centred educators. Ones who want to take the time to be self-aware, present and happy. These educators will create the ripple effect of wellness throughout our schools.
An advocate for educators
I am inspired daily to continue to advocate for educator wellbeing. Educators work tirelessly to support students in our classrooms, often forgetting or neglecting to take care of ourselves in the process. We suffer from burnout and easily become overwhelmed beneath the weight of our responsibilities. I give educators permission to rebuild our resiliency, awaken our wellbeing and take back control of our lives and our classrooms.
This year was the first year of AWE and we hope to grow it provincially and nationally over the next 5 years. Anyone interested in having someone from the AWE team facilitate a retreat in their area should contact the email address below or on
Lisa's Website
Join me on social media by clicking the icons below.
Or to get more information about any of my services; Business & Branding, Portraits, and Event Coverage click the button below
Strengthen your relationship with a date night in Vancouver, with your loved one. Wildfire Retreats offers evenings to spend dedicated one on one time with each other. In the day…
Workshops for Mothers and daughters Amazing workshops for mothers and daughters who are committed to their relationships run by Carmen Ganne from Wildflower Retreats. These workshops for mothers and daughters…