A trip home
I went home to NZ for the first time in 3 years. My little brother was getting married and I offered to do the photography for the wedding. So I packed my bags (23kg of clothes and xmas presents, and about 12 kg of camera gear as carry on – light as a feather!) and took the subway and bus out to Pearson. I have this thing where I get insanely excited about flying and don't sleep on the planes, I try and cram as many movies in as I can before I absolutely crash. There wasn't much fear of sleeping on the flight from Vancouver to Auckland with a child kicking my seat every 30 seconds. Luckily for me, the flight was much shorter than I was anticipating – Vancouver to Auckland is about 13 hours.
I got to spend a couple of weeks in Whanganui and Palmerston North with the wedding falling on the weekend in the middle. Of course a lot of my focus during my stay was to ensure that I sampled some iconic kiwi fare
Mince & Cheese pies – checked this off the list on multiple occasions
Cookie time cookies
Whittakers Chocolate
Choco-ades
Burger Rings/Rashuns/Cheezels
L&P (not mixed with bourbon this time)
Fish & Chips
I came back to Toronto with 32kg of luggage (remembering this is minus the xmas presents I had taken to NZ), and actually had to post 1.5kg of chocolate to myself because I had exceeded the absolute maximum baggage limit. Damn you Whittakers….
Here are some shots from my 2 weeks at home
Arriving at Auckland at 5am and I cried a little bit 😛

Rainy day heading into town – looking from Georgetti Road toward City bridge

More rainy days – looking over at the Wanganui Computer building

More rain – but pretty bluey/greeny river

The town at dusk looking towards South Mole

Whanganui at dusk looking toward Aramoho

Cloudy days and the Waimarie on the river

Running around the bridges on the boardwalk looking towards the City bridge

Sculpture on the river bank which has the path of the Whanganui River carved into it

The sculpture with Durie Hill Tower in the background

Walking up Bastia Hill and looking over Whanganui East and over to upper Aramoho

My childhood home in Raine St – curiously the owners had a bride and groom mannequins out the front….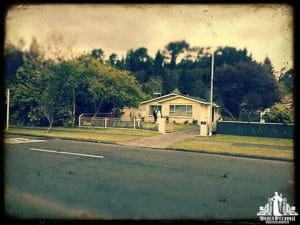 Matarawa stream that ran behind Raine St, us kids in the street had a rafting club and built rafts to go adventuring on. How we didn't drown, I still don't know

The corner of Raine St and Nixon St, my Nana used to live in the white house. We used to walk there pretty much everyday before she moved.

Coffee shop with retro biscuit tins – love the corgi tins!

Coffee shop after my run

The Sun finally arrives – looking downriver from Dublin St bridge

Looking from Dublin St bride over to Bastia Hill

The mountain at Kowhai Park – still smells like wees

The whale at Kowhai Park

Fred and Barney and a dinosaur at Kowhai Park – favourite slide

The Moa hiding in the foliage near the train tracks at Kowhai Park

The castle at Kowhai Park – one of my favourites after the train and the tunnel that you scream your loudest when you go through

Scouting wedding photo locations near the chapel – sadly this didn't work out since it was raining the whole day

Aokautere Chapel just outside of Palmerston North

Scouting locations with Mo behind Aokautere Chapel

More location scouting behind the chapel

Bryan showing me some possible shots at Massey University

Virginia Lake with the ducks – no bread for them today

Pukeko at Virginia Lake

Virginia Lake – with the fountain going after I popped my $2 in

Virginia lake

Such a gorgeous warm day

Lunch with my Mum in Marton

Disgusting, filthy possum – advertising Possum & Merino woollen goods