Spring creative studio Portraits – Khamisa
Creating some spring creative studio light portraits with Khamisa to replicate natural light, with fresh seasonal flowers.
My first couple of months this year has been full on with shoots which has been great, but not necessarily stuff that I have been able to share.
So with April rolling around and by all accounts a later arrival of Spring in Vancouver, I thought it was time to do a couple of shoots. I wanted to recharge my creativity and celebrate the arrival of better weather. Raincouver anyone?
Originally my plan was to shoot outdoors around Kitsilano where there have been some very pretty blossoms popping up. But the completely incessant rain on the day put a stop to that.
My last couple of shoots, I have worked with make up artist Tara Ariel  and we collaborated together on this shoot.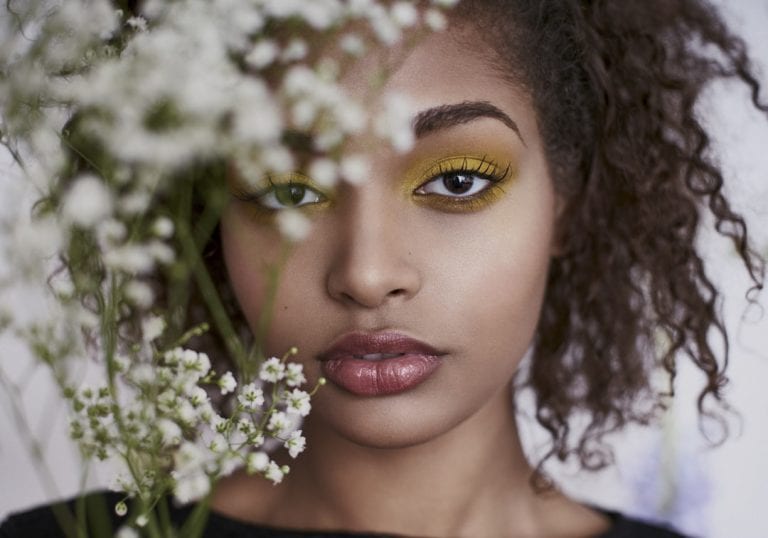 Prior to the shoot I had taken a trip to the local florist.  I created a hanging flower wall using a mixture of spring blooms (freesia, gerbera, hyacinth, and roses) . It smelled amazing.
Tara spotted the bright yellow freesia right in the middle of the wall, and created a simple spring look with a bold yellow eye to complement.
The day was pretty gloomy with all the rain so I had my strobes set up to use as natural light was pushing me into higher ISO (around 3200).
The strobe images were on lowish power (maybe 1/8th), shooting through a white umbrella and a white homemade scrim for extra diffusion.
I used my Canon FD 50mm f1.4 but kept it around the f2.8 mark.
Also my Canon L 24-70mm f2.8 also at f2.8 with the focal length mainly between 35 and 42mm.
I switched from Lightroom over to Capture One at the start of 2017, as they have a working relationship with Sony and I use Capture One Pro for Sony.
All initial adjustments, Luma curve and some initial colour grading was done before I moved into Photoshop. I'm still running CS6 for full skin retouch, as I am not a fan of CC the bug reports. 
I did some extra colour grading in Alienskin Exposure X before taking back into Capture One for some last tweaks on the curves (Luma and individual R, G, B channels).
You can find Khamisa and Tara by clicking on the social media icon buttons below.
More posts like this here
Maryia visits for some studio and natural light portraits. I recently started shooting at a studio space on the downtown eastside of Vancouver, and it's been interesting getting used to…
Francine joined me for some outdoor portraits at Pacific Spirit National Park. What a privilege it is to have such a beautiful spot only a few kilometers away! I've met…
Vancouver contemporary portrait photographer