Wildflower Retreats Beauty of the Bond
I had the pleasure of photographing Carmen from Wildflower Retreats at her recent Vancouver workshop for mothers and daughters - Beauty of the Bond.

It was an afternoon full of light, love and connection. To find out more about Carmen and her workshops, scroll to the bottom of this post. I asked Carmen to share a little bit about what drove her to work specifically with mothers and daughters.​
I'm a natural born explorer with insatiable curiosity. I'm constantly blown away by the magic and beauty of the world and am wildly passionate about things that spark joy, wonder and connection. I know that the people and situations that challenge us the most are our greatest teachers.
My pleasure comes from knowing that the good, the bad and the ugly lead us on an adventure in which we get to discover exactly what we are capable of.
I hold a Bachelor of Social Work Degree, a Yoga Teacher Certification and have attended countless trainings, workshops and seminars on all things human. And all roads led me here, to Wildflower.
Wildflower works with Moms & Daughters to inspire the development of bold and brave women and girls who are unapologetic in themselves through experiential retreats, workshops, classes and private sessions. It asks us to show up fiercely and connect deeply.
It maximizes positive impact and minimizes risk for Moms & Daughters by using the most complicated and intriguing dynamic between women to set the foundation for everything they need to fly. We dive into and celebrate the beauty of the bond between them.
Wildflower was designed and created as a delicious mix of everything that women wished they would have known or been told coming up into this world.
In a culture that fires information and expectation at us faster than we can take it in, Wildflower delivers the most essential message we all need to hear- we are enough. 
As a lifetime lover of movement and with an understanding of the value of experiential methods, I created a program in which the activities teach the material and women and girls decide what they take from it.
Being in relationship is our single biggest tool for cultivating happiness, experiencing joy and understanding ourselves and the world around us. We grow and exist in relation to ourselves and others. Reflecting and amplifying the good, bad and everything in between.
[easy-image-collage id=113379]
The impact of connection is magnificent. It means more confidence, more trust, more love. It also means positive decisions, strong boundaries and healthy choices. It means the difference between knowing we can and being afraid, between standing strong and giving into pressure and between loving ourselves and wishing we were someone else.
I've seen the devastation from the lack of a solid foundation for women and girls. Not only have I worked for years with women and youth professionally, I have been one of those young girls myself. My heart aches every time I hear another woman say they wish they had known more, better or different.
Wildflower was created as an answer to that call for more, better and different.
To change the conversations we're having, the messages we're receiving and the way we're spending time together. Connection is the ultimate and relationship becomes our greatest tool for personal growth, understanding and reflection.
Wildflower is designed for the curious who crave something deeper out of life. Like a rock-solid relationship with yourself and others.
It's for you if you are open and willing to show up for yourself. For each other. If you crave understanding. And are committed to helping yourself and others feel seen and heard. If you are able to come with humility, playful curiosity and radical self-responsibility.
You believe in limitless depth and potential within relationships. Regardless of the status of the relationship, you recognize the value in connecting deeper, learning together and celebrating each other.
So whether you have a really solid relationship or it could use a little TLC, Wildflower offers uninterrupted, quality time together to give you what you need.

I really believe that everything happens for a reason. Even if it isn't really clear at the time. I had been living in the prairies and several of the things that kept me anchored there started to disappear. I decided to take a break, go on a holiday, and attempt to make sense of everything that had been happening and really look at where and how to move forward.

I landed on a tropical island, and it became the place where Wildflower was born and created. It actually finally came through during a conversation with two dear friends in a cafe while there. It was so clear what needed to be created and what started as a holiday became the most intensive journey of creation, exploration and development.
[easy-image-collage id=113380]
I also asked what keeps Carmen inspired in her business
I am constantly inspired by the remarkable women that I meet. The ones who show up boldly, bravely and unapologetic in themselves. As well as the ones who are terrified, worn-down and unsure of where to go from here. Because regardless of where we fall along the spectrum, we have a beautiful flame inside of us just aching to be fanned and made brighter.

I have the absolute honour to witness the beauty in relationships and those genuine moments of connection, breakthrough and celebration. To see walls come down, layers being peeled back and weight being lifted is an incredible gift. It's the guts of life and to be among open hearts and curious souls is nothing short of inspiring.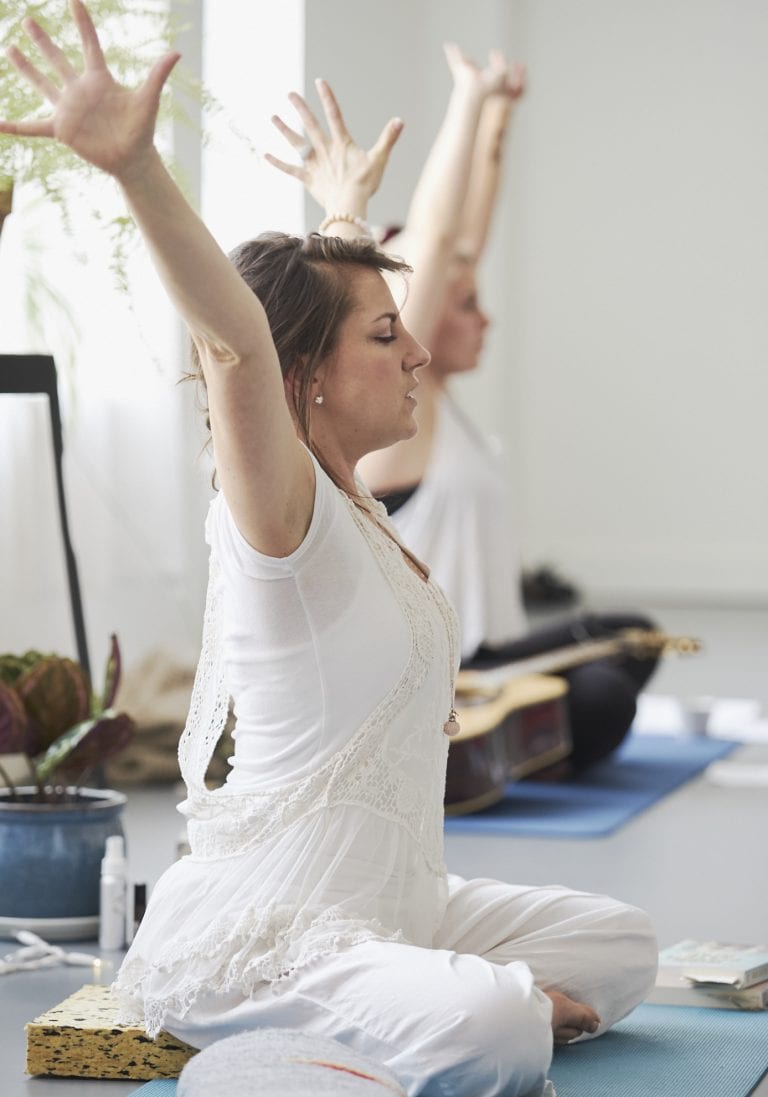 Some fun stuff about Carmen
Get in touch with Carmen to join an upcoming Mom & Daughter Mini or Weekend Retreat and learn how you can gift the experience of connection. She can be found at the links below or check out her website www.imawildflower.com
Shot on Sony A7II at Stretch – 108 E Pender St, Vancouver
More posts like this here
I connected with Tiffany at a Women in Male Dominated Industries (WIMDI) event late in 2017, and we recently worked together on a workshop she held in Vancouver – Better…
More amazing mothers and daughters committing to their relationships, spending an afternoon workshop with Carmen Ganne from Wildflower Retreats. I have found being a part of capturing imagery from these…